November 12, 1994,

The New York Times Archives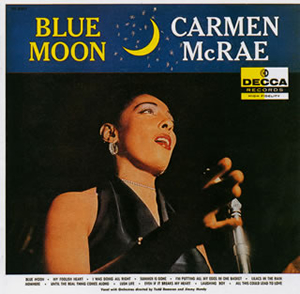 Carmen McRae, the jazz singer known for her probing interpretations of lyrics and her bruised but unbowed point of view, died on Thursday evening at her home in Beverly Hills, Calif. She was 74.
She had fallen into a semi-coma four days earlier, a month after being hospitalized for a stroke, said her secretary, Jan March. She withdrew from public performance in May 1991 after an episode of respiratory failure only hours after she completed an engagement at the Blue Note jazz club in New York.
Although Ms. McRae never reached the heights of popularity attained by Ella Fitzgerald, Sarah Vaughan and Billie Holiday, she was widely regarded as their artistic equal. In a prolific recording career that spanned nearly five decades, she had only two minor hits, both in the mid-1950's. But the scores of songs on she which stamped her bittersweet, gently mocking signature included "Alfie," "The Music That Makes Me Dance," "Guess Who I Saw Today?," "Blame It on My Youth," "Yesterdays" and "Mean to Me." In January, she received a National Endowment for the Arts Jazz Fellowship award for lifetime achievement.
Ms. McRae was born in Harlem on April 8, 1920, one of four children of immigrants from the West Indies. Growing up in Brooklyn, she attended Julia Richman High School in Manhattan and received her musical grounding in five years of formal piano lessons.
Like many other jazz giants of her generation, she had her first break when she won an amateur talent contest at the Apollo Theater in Harlem. It was there that she was discovered in 1939 by Irene Kitchings, who was then married to the jazz pianist Teddy Wilson. Through Wilson, who worked with Billie Holiday, Ms. McRae met the woman who became her biggest influence and who recorded Ms. McRae's song "Dream of Life."