KUXL – 1570 kc
Unlike most metropolitan areas, the Twin Cities did not have a black radio station in the 1940s or '50s. Minneapolis' black population had been consistently at or below 1 percent from 1870 to 1940. In 1950 it was 1.3 percent, and in 1960 it grew to 2.5 percent. It wasn't until 1964 that the community could support a station that played music that was primarily by and for the black community, and by that time young white listeners were embracing black music as well.
KUXL went on the air in 1961 at 1570 AM as a 1,000 watt, daytime-only station. The station operated out of the Golden Valley Inn, a motel at 4820 Olson Memorial Highway. That address does not compute, but below is a photo of the Holiday Motor Hotel from 1955, described as being taken in 1955. That building exists today with the address of 800 Lilac Drive, and I'll bet it's the same one: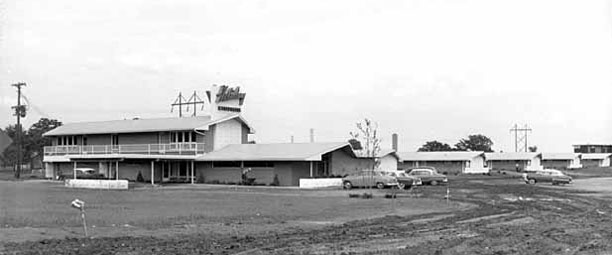 In an interview given for the Rondo Oral History Project of the Minnesota Historical Society, Yusef Mgeni remembered that KUXL "was a strange hybrid type of station. They would play gospel, and they would play Rhythm and Blues. And they would play some jazz, depending on which of the announcers was on or what day of the week or what time of the day it was, you'd turn the radio on and hear something different."
---
An ad in 1962 is pretty ambiguous:
Radio is Sound!
KUXL Radio is a BETTER Sound
Hear it Yourself – Tune up to 1570 on your radio dial where you are never more than 2 minutes away from the Hi-Fi sound of good music, Associated Press news on the hour and half hour, latest in sports on the quarter hour.
You will enjoy tuning up to the quality sound of sound radio programming on KUXL. Top O' The Radio Dial
Sun Up To Sun Down
---
The station had religious programming in the morning, including the B'nai Shalom Jewish Radio Hour. There were also German and Polish hours. Names of programs in January 1964 may give an indication of what the station was like, apparently dispensing a lot of wisdom and advice.
Smile Awhile
Inspiration
Women Ask
To the Kids
Like to Know
Just Thinking
Interesting
Mothers Ask
Happy Marriage
Explain It
Happiness
Look Younger
On December 16, 1964, afternoons changed from jazz to Rhythm and Blues KUXL sponsored dances at the Marigold Ballroom, and brought in national acts such as Ike and Tina Turner, the Four Tops, BB King, Solomon Burke, Chuck Jackson, the Temptations, Jimmy Reed, Jr. Walker, the Impressions, Marv Johnson, Al Green, Syl Johnson, Wilson Pickett, James Brown, and Fats Domino. In 1965 one of the programs was Rhythm 'n' Blues Time, presented live from the Cassius Bar and Cafe, 318 So. 3rd Street in Minneapolis and hosted by Prime Minister Billy G.
In 1964 the station was owned by Marvin Kasofsky of Los Angeles and Bob Smith, aka Wolfman Jack. Smith had created the Wolfman in 1958 at the 250,000 watt "border blaster" station XERF in Mexico, just over the border from Del Rio, Texas. The antics of the Wolfman were documented in the 1974 film "American Graffiti," and were punctuated with ads for baby chicks (100 for $4), glow-in-the-dark statues of Jesus, and oldies albums from Uncle George's Record Shop, owned by George Garrett here in Minneapolis. Smith was General Manager of the station and never appeared on the air here locally, but continued to make Wolfman tapes in the Golden Valley studio and ship them to Mexico. In 1966 he sold out to Kosofsky and went back to Mexico, this time to XERB, a 50,000 watt station in Tijuana. In 1974 he was into many projects, including a weekly syndicated show that was broadcast here on KDWB.
Also at KUXL at this time were Art Hoehn (a.k.a. Fat Daddy Washington) and former KDWB personality Ralph Hull (a.k.a. Preacher Paul Anthony and The Nazz). Hoehn and Hull went with Wolfman to XERB 1090. They operated the "Big X" from Minneapolis initially, then relocated to Southern California in 1966.
KUXL went to all religious programming; an intervieww with Henry Joiner of KMOJ indicated that there was no black music radio in 1970. The call letters of KUXL changed to KYCR in 1988. See the story in Twin Cities Funk & Soul Newspaper, page 27.